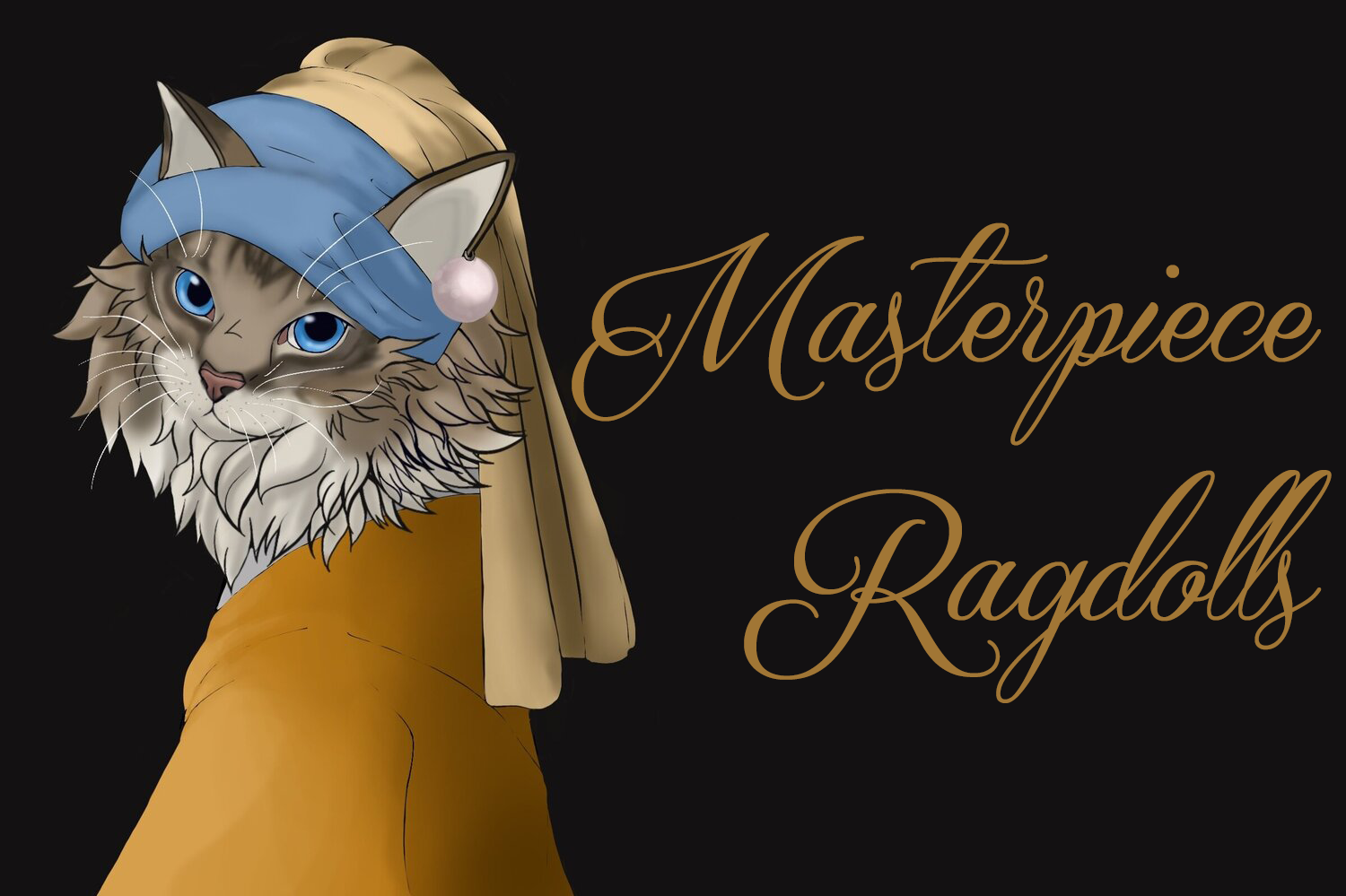 TICA Registered Cattery
Update: December 6, 2023
Ragdoll Kittens Available to go home 12/24/2023.
A New Stud: Breeding in 2023
WillowtreeRags Love Song.
Affectionately known as "Prufrock."
2023 TICA IW Supreme Grand Champion
WillowTreeRags Mr. Bennett of MasterpieceRags
Mr. Bennett is ICA's 2023 Best Long-Haired Cat & 2023's Best Ragdoll in TICA's Pacific Northwest Region.
He is also the 2nd Best Ragdoll internationally. He achieved these titles in under four months. He is both charm and beauty.
What makes a Masterpiece?
In the art world, it is a skillful creation.
A unique production: Rare, universal, and enduring.
We have come to learn that Ragdoll kittens, when carefully bred and lovingly homed, are just that! What endears them to us is their laid-back temperament, their cuddly fluffiness, their gentle playfulness, and their human loyalty. Our Ragdolls are bred sparingly, allowing us to nurture them.  When your kitten comes home with you, she will reward you with years of companionship.
Masterpiece Ragdolls Cattery
Our middle child studied the ragdoll breed – and the rest is history! We acquired a pet ragdoll, studied established breeders' practices for two years before making the leap! In 2017, we purchased our first queens and king on the east coast. Settling in the PNW, we finally began in earnest and we couldn't be happier cuddling queens through labor, playing with toddler kittens, and enriching the lives of families. Get to know us!
Luxury Pets for Families
Our mission is to ensure optimal health and breed standards while also making the time to provide superior support for our clients. 
We consider our customers to be a special breed themselves! Our experience with Ragdoll owners is that they are compassionate, educated, and diligent. When a family is expecting, they are excited & inquisitive. We are here for all of that. Any time during the acquisition process, we are available. Even if you just have general questions before or after you buy, don't hesitate to email us.
Purebred Ragdoll Cats and Kittens
TICA – The International Cat Association is the world's largest genetic registry of pedigreed cats. We are a TICA-registered cattery. This means the kitten you take home has been registered in accordance with TICA guidelines.  We have signed a code of ethics and strive to live by them.  TICA's mission includes: "the promotion of science-based studies, educational and friendly relations between cat owners in this country and all other countries of the world" in order to uphold breed standards.
Ragdoll Kittens near Seattle
We are located in Lacey/Olympia, Washington area. Although we are between Portland & Seattle, we have transported kittens as far as New York & Florida. We contract with a professional flight nanny.
We do Genetic Testing
All of our breeding sires and dams undergo genetic testing through Wisdom Panel (Optimal Selection). Any potential breeders found carrying genetic abnormalities are rejected from participating in our breeding programs.
Are you looking for a companion kitten?
Meet a Masterpiece!
Recent News