Upcoming
Ragdoll Litters
Spring 2023
Charlotte Bronte delivered on 3/11/23. Sylvia delivered on 3/27/23. Celie delivered on 4/5/23.
We are still accepting deposits for summer 2023. Scroll down to see the current waitlist.
Deposit for Waitlist
Spay/Neuter
HomeAgain Microchip
3-Way Vaccine - FVRCP & Deworming
Week′s Supply of Food
Pedigree Copy Upon Request
Acquisition Process
Waitlisting for an upcoming pairing is a good way to acquire a ragdoll kitten. This route allows us to work together to accommodate your preferences. After an interview by phone or video chat, you can submit your deposit. The deposit is $400 and is nonrefundable, but is deferrable. No PayPal fees for you. Your deposit is applicable to the final price and it is covered by PayPal's Purchasing Security For Buyers.  Your name will be added to the waitlist published below.  You can see where you stand on the list anytime by returning to this page.
Once the kittens are 7-8 weeks old, you will receive pictures/video in order to make a selection. You will have 24 hours to decide.  My intention is to be as fair as possible so that each buyer can feel confident in our process.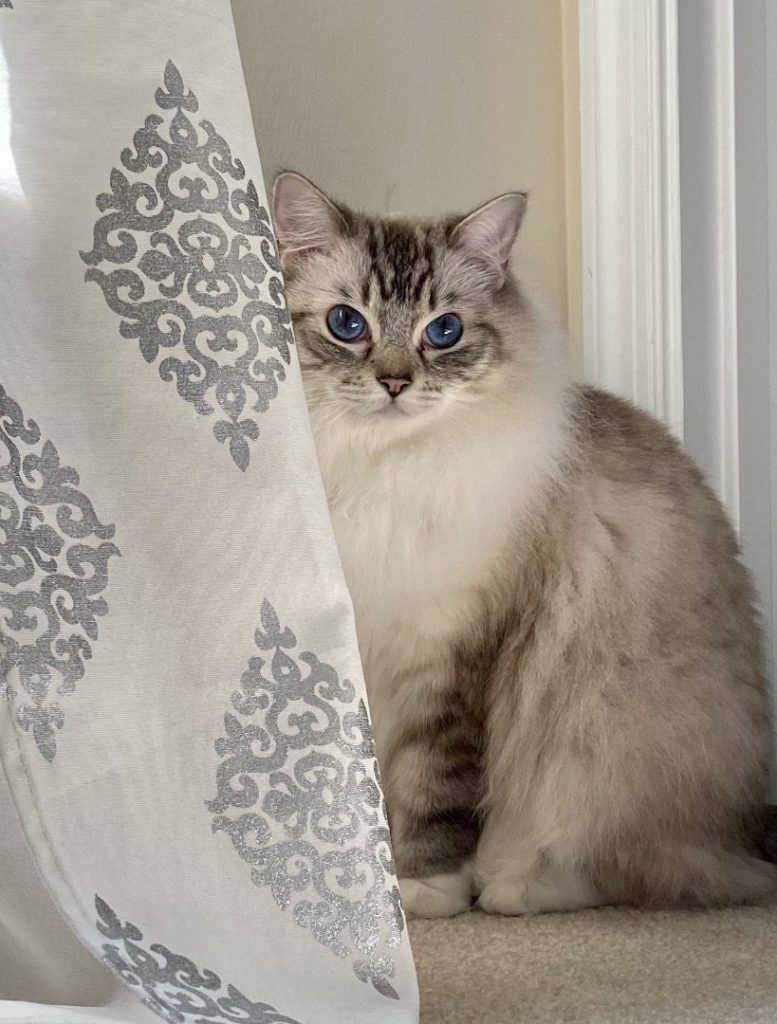 Waitlist Questions?
If you're interested in acquiring a Masterpiece ragdoll kitten, please complete our questionnaire & choose a good Wednesday in which we can conduct a cat chat!
You will speak directly to me – Elizabeth. We take about 30 minutes to get to know one another. This way, I can learn what you're looking for and you can get a feel for our process and the kind of cats we breed. We talk about temperament, colors, patterns, prices, and timelines. You are best served by having a list of questions ready in case I miss a salient point which you need addressed!
Please note: I will be calling you from a Savannah, GA telephone number. 912-508-9739.
Spring/Summer 2023 Waitlist
2023 Waitlist 
Yeweon 4/15/22 – bicolor or lynx bicolor female
Claire – 9/14/22 – female pointed, no mittens
Griselda – 9/17/22 – First pick female from The Vicar
Melissa B – 10/6/22 – Male from The Vicar
Chris & Anna – 11/26/22 – Open to all litters – even a tortie! Summer 2023
Kenya H. – 1/15/23 – Laid back male, seal point (darker color) Summer 2023
Lauri – 1/26/23 – Vicar male kitten
Jaci & Matthew – 2/3/23 – Tom from Charlotte's litter
Evelyn – 2/15/23 – Bella from Celie's litter (lilac lynx point)
Jan Millan – 2/16/23 – nearly white ragdoll (lilac lynx bicolor or blue)
Jennifer S – 3/1/23 – Female – open to all litters in Fall 2023
Courtney B – 3/6/23 – Lighter female (maybe male) from Shug, Celie, Charlotte
Caroline L- 3/12/23 – Male bicolor (lilac, blue, seal, lynx ok too)
Aaheeree – 3/14/23 – Female wide V bicolor in blue, lilac, lynx, or seal
Chandra H. – 3/23/23 – Show Quality female: seal lynx bicolor, seal point, blue point
Kim A. – 3/20/23 – Seal Bicolor female, open to other litters also
Shyam – 5/10/23 – Seal Lynx Bicolor female
Bria – 5/12/23 – Blue lynx point, male, mittens ok

Mr. & Mr. Bennett
Evadne & Mr. Bennett
Sylvia & Bennett
Sylvia is a seal lynx bicolor. Mr. Bennett is a seal bicolor. They will make seal lynx and seal bicolors.