Upcoming
Ragdoll Litters
Updated 8/26/23.
All currently born females are likely to be claimed by waitlist members. At this update time, we are only accepting waitlist members for BoyKats! They make the biggest, cuddliest, non-marking pets. We are also declining waitlist requests for mink ragdolls at this time. Please consider adopting a fella this fall/winter. Patterns include Bicolor, mitted, and lynx point/mitted.
Deposit for Waitlist
Spay/Neuter
HomeAgain Microchip
3-Way Vaccine - FVRCP & Deworming
Week′s Supply of Food
30 Days of Trupanion Health Insurance
Acquisition Process
Waitlisting for an upcoming pairing is a good way to acquire a ragdoll kitten. This route allows us to work together to accommodate your preferences. After an interview by phone or video chat, you can submit your deposit. The deposit is $400 and is nonrefundable, but is deferrable. Your deposit is applicable to the final price.  Your name & date deposit left will be added to the waitlist published below.  You can see where you stand on the list anytime by returning to this page.
Once the kittens are 7-8 weeks old, you will receive pictures/video in order to make a selection. Alternatively, you may visit the cattery to choose your kitten (by appointment only). You will have 24 hours to decide.  My intention is to be as fair as possible so that each buyer can feel confident in our process.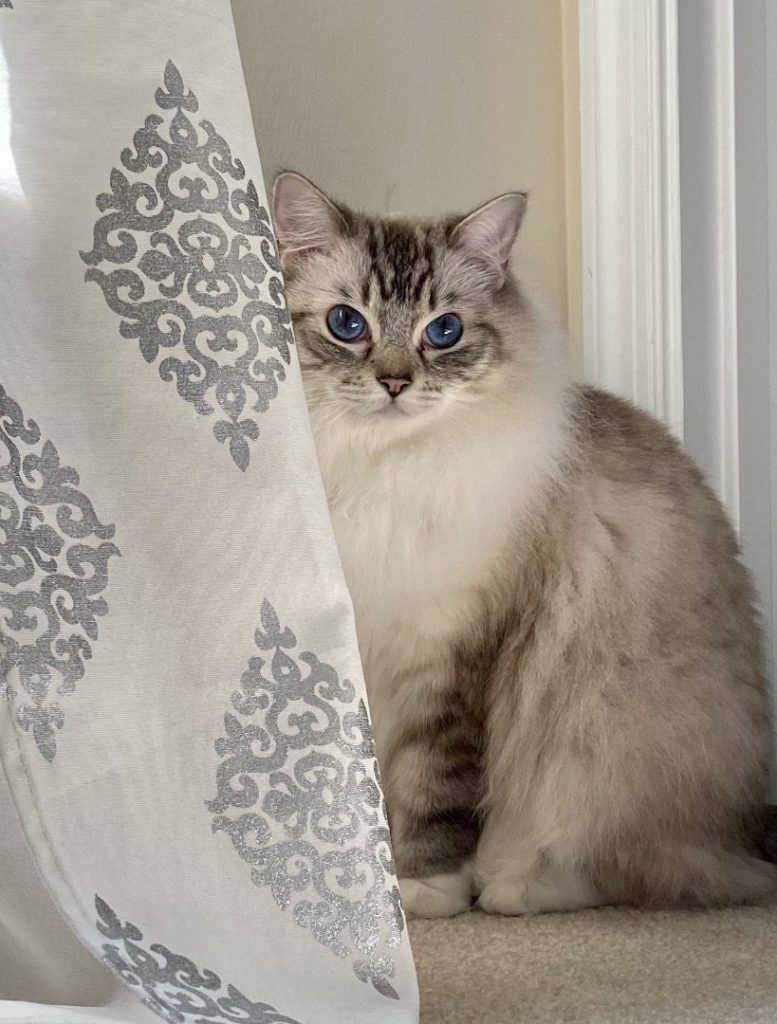 2023 Waitlist
Waitlist Members 2023
These members hope to chose a kitten in 2023 if their preference becomes available.
Griselda – 9/17/22 – First pick female from The Vicar
Lauri – 1/26/23 – seal color point kitten male
Margo – 7/2/23 – Seal Point or bicolor from Bennett
Terri M. – 8/8/23 – No color/sex preference, temperament & health the most important aspect
Jeanette – 8/17/23 – pointed, non-bicolor, emphasis on confidence and temperament for poodle/Pomeranian
Evelyn – 8/31/23 – Female companion for Fifi
Mike & Darah – 9/2/23 – Female ragdoll kitten
Jin – 9/13/23 – 9/13/23 – 2 kittens – Blue lynx point/bicolor, blue or seal point/bicolor
Erin – 9/25/23 – Seal, or Seal lynx Bicolor boykat
2024 Waitlist
Waitlist Members who have chosen to defer their deposit one or more times are listed below. 
These members will have an opportunity to select in 2024.
Yeweon 4/15/22 – bicolor or lynx bicolor female in 2024
Chris & Anna – 11/26/22 – Open to all litters – even a tortie! 
Jennifer S – 3/1/23 – Female in 2024
Caroline L- 3/12/23 – Male bicolor (lilac, blue, seal, lynx ok too)
Shyam – 5/10/23 – seal bicolor
Bria – 5/12/23 – Blue lynx point, male, mittens ok, open to flame
Shannon L – 6/25/23 – Mary/Bennett kitten
Helen T – 6/30/23 – A pair of male lighter colored, affectionate pals in 2024
Hannah – 7/3/23 – Open to all litters
Genevieve – 9/9/23 – Male Seal Bicolor

Waitlist Questions?
If you're interested in acquiring a Masterpiece ragdoll kitten, please complete our application & choose a good Wednesday in which we can conduct a cat chat!
You will speak directly to me – Elizabeth. We take about 30 minutes to get to know one another. This way, I can learn what you're looking for and you can get a feel for our process and the kind of cats we breed. We talk about temperament, colors, patterns, prices, and timelines. You are best served by having a list of questions ready in case I miss a salient point which you need addressed!
Please note: I will be calling you from a Savannah, GA telephone number. 912-508-9739.