Our Story
Who are we?
We are TICA-registered Masterpiece Ragdolls. All kittens are bred from studied pedigree. All breeders have been tested to ensure their offspring will be free from 49 genetic defects including HCM. We offer traditional kittens and a few minks in a variety of patterns and colors, including blue-eyed whites. Our priorities are optimal health, pleasant temperament, breed standard adherence, and superior client services. Our desire is this: to see buyers happily matched with their masterpiece ragdoll.. The process of acquisition can take time; don't hesitate to reach out.
"Mom, I know what kind of cat I want…"
And that's how it began. Once our children were old enough to research a pet, they began to using their faculties of reason with me! Our daughter, in particular, learned as much as she could about a ragdoll's temperament and needs. Her powers of persuasion were augmented by the evidence! In the winter of 2016, our family's first TICA-registered ragdoll was born! We named her Chamomile for her peaceful demeanor. She transformed our home life.
Four years later, in 2020, with the help of mentor breeders in the U.S. we found ourselves the proud proprietor of Masterpiece Ragdolls Cattery in good standing with TICA, the world's largest genetic registry of pedigreed cats.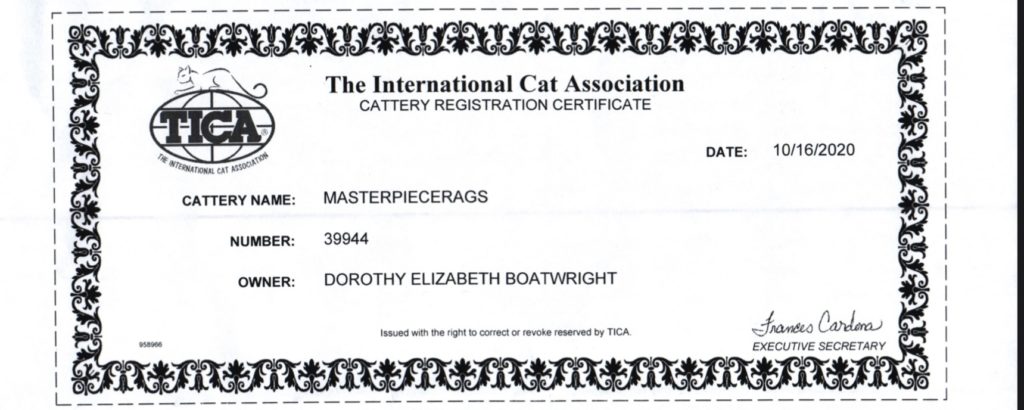 We'd love to hear from you!
Contact us
Error: Contact form not found.