It's time to register your ragdoll kitten. The process can seem a bit intimidating and to be honest, TICA has not always had the most streamlined process, but the TICA Feline Management System (TFMS) is vastly better than the old system. And their customer service is cheerfully available. If you get stuck, you can give them a call directly at (956) 428 – 8046.
What you'll need
TICA Breeder Slip – from your breeder
A valid email address
A credit card or PayPal account
15 minutes
Once you have all of these, you can make the adoption official. It only takes about 15 minutes & $10 to complete the process. You do not need to join TICA as an official voting member, but you do need to establish an account and be assigned a TICA Client ID.
In your browser, navigate to: https://tfms.tica.org/s/
There are two buttons to choose from.  If you haven't created a TFMS account, click on This is My First Time to TFMS.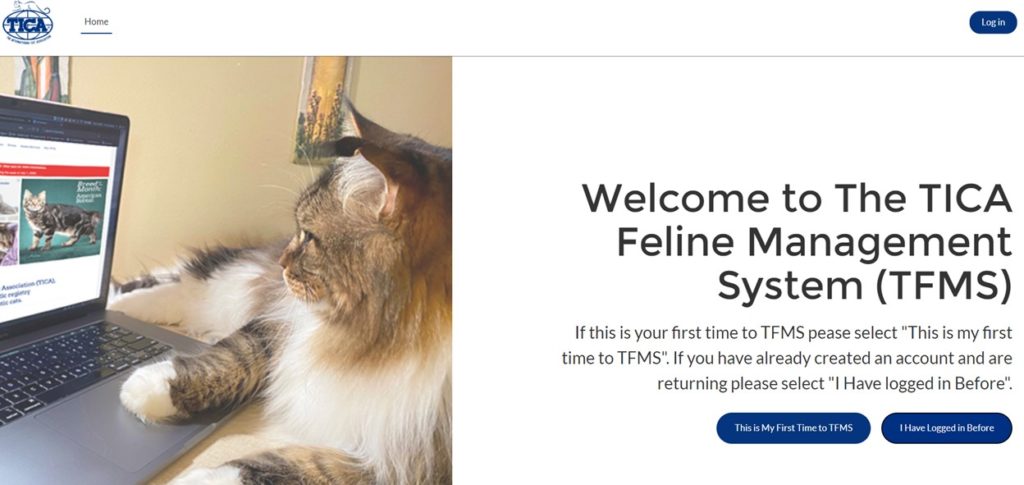 You'll complete a couple of forms to let TICA know a little about who you are. Next, you'll receive an email to confirm your account. TICA wants to make sure bots aren't creating dummy accounts. Upon confirmation, you will create a password. Your username is the email you associated with TICA.
Now, you're official! You have a TICA Client ID. Note: this does not make you a voting member, which is not necessary for the typical pet family.
Below is the Home Page where you will begin the process.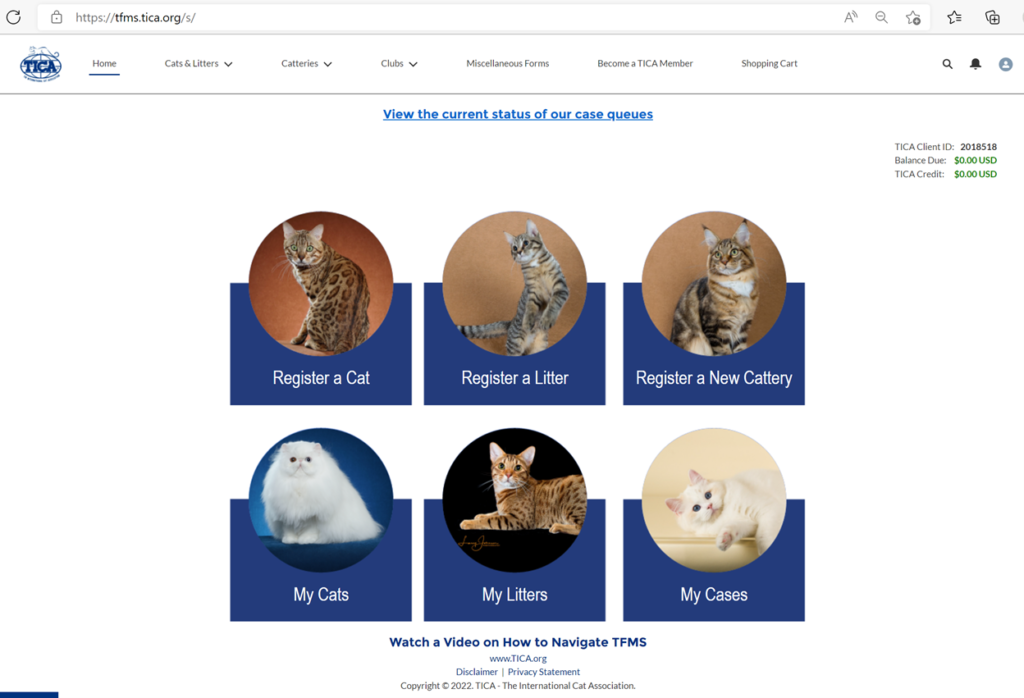 Click on Register a Cat.
Choose REGISTER A CAT USING A BREEDER SLIP. You can also watch the video on how to register a cat from a breeder slip. You can skip ahead to the portion applicable to the typical family bringing home a kitten which begins at 1:45.
The two most important pieces of information you need from your blue slip is the Breeder Slip Number (BSN) and the Litter Number. The litter number is the date of birth followed by a randomly assigned figure from TICA.
You will find this info on the breeder slip which your breeder has provided to you. Below is a sample registration. Note the Breeder Slip (BSN) Number and the Litter Number in red. Enter this information in the form EXACTLY how it appears, including spaces.
Occasionally, you can follow all these instructions and there is still a problem. If you encounter error messages, call TICA first. The folks who answer the phone are accustomed to questions of all kinds and they will route you to the right person or they will be competent enough to help you solve the problem on the spot!
Their number is (956) 428 – 8046.
Last, but not least.
Sometimes the problem is mine. I have been known to make a data entry mistake. Or perhaps I've given you the wrong document. I'm only human. It's up to me to correct data entry mistakes and the like. Don't hesitate to ask.