One Family's Cat Scam Story
In this series, I will address challenges such as cat-purchasing scams, price gouging, managing expectations, acquisition timelines, how to spot reputable breeders, and more. My hope is to guide the desperately-seeking ragdoll lover.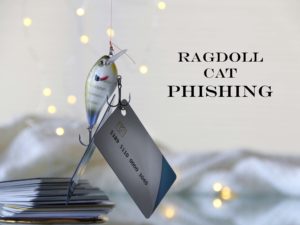 We are internet shoppers. Many of us have become highly dependent on the web to find what we are looking for. We go to google and surf safari to find the elusive ragdoll kitten.
Scammers know this. Scammers have studied legitimate ragdoll sites to know what is being sold, for how much, and in what manner. Nefarious swindlers capitalize on the adoptive family's lack of knowledge by creating web content and social media accounts. Some of them are impressive.
Jodie & Bobby
Jodie and Bobby are genuine cat lovers. This was clear from our first conversation. Jodie shared her experience with a scammer with me, so I invited her to drive down from her home near Seattle to meet us. Once she confirmed we were real people with real ragdolls, she and Bobby left us a deposit for two kittens. A few weeks later, she took home Frodo,  & Stella.
I asked them if they wouldn't mind sharing their experience with me for this blog and they were more than happy to help.
Here's our Q&A with them.
Q: How long was it before you came upon the scammer?
A: We stumbled onto the scammer pretty quickly, but searched for a few weeks to try and find as many possible sources for a kitten as possible.
Q: Would you be willing to share the name of the "breeder?"
A: The breeder was "Ragdoll Kitten Home Cattery."
Note: Since conducting this interview, we have since found that "Ragdoll Kitten Home Cattery" is now operating under a different name/site.
Q: Would you even have known how to verify the person was an actual registered breeder?
A: I had no idea how to verify that the person was a registered Breeder.
Q: Can you describe a little about how you came to learn the "breeder" had a kitten available? Did they have a process? Did they send pictures? Did they require a contract? How did they accept payment?
A: We contacted the "breeder" directly through their website, which seemed very professionally done: testimonials and reviews, pictures of past adoptions, pictures of available kittens and articles on Ragdoll cats. There was even a "Contact Us" button that opened a form which we filled out. We received an auto message stating they had received our inquiry. They responded a day later by email with a few additional questions and described the kitten we had inquired about. Below is a copy/paste response of the email:
Hello,
Thanks for the interest in our Kitten –Raffa. He is still available for sale and he is 10 weeks old now. We are kitten lovers and breeding the Ragdoll Cat is all that has made us satisfied. Also ensuring that our lovely kittens go into beautiful homes and are loved are our top priority.
 Raffa is a very pleasant cat to have as a companion. He is easy going, loves to climb on my wife laps when watching tv. Raffa is a fiercely loyal, loving cat and will attach himself to every one of his family members. He loves to play, he doesn't need hourly attention. If he is in the mood to play, he will find someone and bring a toy to that person. Raffa also plays well by himself, and he is a good companion for single people and families 

We are selling him for Price: US$600 (INCLUDING SHIPPING). Free shipping Coupons for this week ONLY.
Shipping area: USA/CANADA
All of our cats are tested negative for PKD, FELV and FIV, here at our cattery we thrive to produce healthy happy and well-socialized kittens, we take pride in what we produce and mainly focus on health, temperament, and quality. All our kittens are raised with our kids and other household pets. These kittens are of European pedigree. 
 Raffa Will Come With…
• 1 Year Written Health Guarantee
•First Set Of Vaccines
•Dewormed ×2
•Vet Certificate Signed By A Licensed Vet
•Litter Box
•Litter Scoop
•Food/Water Dish
•Toys
•Sample Of Food
•Lifetime Breeders Support
 All I really want is for the kittens to move into a nice and caring home. Before giving the kittens away,
We would like to take this opportunity to ask a few questions to be sure of him/her next family.
– Have you owned a pet before?
– Do you have a vet doctor?
– where precisely are you located?
– Are you a breeder? Because our kittens are for PET PURPOSE ONLY
– Give me a Brief Description of your Environment?
– What is your phone number for easy communication?
– How Soon do you need Raffa?
We look forward to reading from you ASAP.
 Thanks.
During the process they sent multiple pictures and videos. They sent a contract and they accepted payment by Zelle.
Q: At what point did you feel you had been dealing with a dishonest person?
A: Once we sent the signed contract and payment, we received an email from a shipping company stating that we needed to put down a $999 fully refundable deposit for a temperature-controlled shipping crate to fly the kitten to Washington. When I tried to contact the "breeder" about the undisclosed deposit they went dark. They didn't respond to me at all. When I tried to look up and contact the number/person that I had previously sent a payment to, I learned that POC was not the person who was on the Zelle receipt.
Q: Did you consider taking any legal action? Seeking out a consumer protection agency? Filing charges?
A: I tried to reverse the Zelle payment and found that this type of transaction cannot be reversed once the other party has accepted payment. I filed a report with the bank and filed a police report. The police contacted me and stated that although they were in receipt of the report, there is not much they can do about it.
Q: How did you feel at the loss of money? Did you recoup any financial loss?
A: I did not recoup any of the financial loss. I didn't feel as bad about the loss of money… I felt like a fool because I had been scammed. I am an intelligent person. I should have known better than to trust some website without doing more research first.
Q: How did you feel at the fact that no kitty was waiting for you? 
A: It was heart-breaking that we were not getting the kitten. We had bought toys, beds, food, dishes and had everything setup to welcome the new addition to our home. To then just have that all ripped away was very sad. I went from really wanting a new pet to feeling violated. It was tempting to give up trusting anyone claiming to be a breeder.
This story had a happy ending. Not only were Jodie & Bobby able to connect with us, taking home two kittens, but I was thrilled to be able to send them home with our little fella, Frodo. Frodo's survival story is one worth checking out on YouTube: https://youtu.be/lnomo5w_RaA
Part 3: Indicators You Have Met a Scammer Online.
We will examine some of the current (as of 2022) red flags. Scammers' methods are evolving.